Journey Mapping at Stanford School of Medicine
category
About the project
The Lane library is the main hub for research tools and resources used by the healthcare professionals at Stanford Medicine. After conducting
user research on behavioral personas
, we used the profiles we defined to begin understanding the experiences our users had when trying to accomplish their persona-specific goals. By developing journey maps for each persona, we could then begin to visually highlight weaknesses in our services that can be understood and valued not only by the UX team, but by all departments concerned.
The team consisted of Olya Gary, lead UX designer and myself, junior UX designer and project leader. We worked with a team of research librarians (known as liaisons; Chris Stave, Connie Wong, John Borghi) who work directly with healthcare professionals at the Stanford School of Medicine to assist with their research efforts by helping them to gather resources.
Having conducted visual design testing that garnered nebulous results, our UX team realized that in order to truly understand the pitfalls in the website design we had to start building a foundation for our audience. That led to an extensive project to define behavioral personas. Having determined a set of user personas, we next sought to understand how each persona interacts with the research tools and services provided by the university. As a starting point for learning how to build a journey map in the context of our department, we decided to focus on the following:
Build a journey map that defines the journey of a researcher with a specific research question who enlists the assistance of the liaisons to perform a literature review: gathering articles, journals, books or references related to the research topic.
Our goals were to identify user behavior, discover problems in the process, visualize/illustrate those problems and then educate stakeholders to create a shared vision across our different departments. I referenced
Nielsen Norman Group's process
on how to carry out effective customery journey mapping.
Because the research liaisons were directly involved in this journey map, I saw this as a key opportunity to collaborate with them on the UX work that we do. My intentions were twofold: to depend on them as a primary source in our research and to grow the sense of importance of the role that UX plays in our work as an organization. As you will read later, I interviewed them extensively and invited them to a collaborative workshop where we drafted and reviewed the journey map together. At this stage, I had quick conversations with them in person to give them an introduction to journey mapping and to schedule 30 minute interviews to get details on the research process and their insights.
Before diving into creating a map and chatting with users, it was imperative that we first ingest all the information that we already had at our disposal and to use that as a starting point for the research. This saved a lot of time because it brought me up to speed on the process and gave me a deeper understanding going in. I could ask less informational questions and focus on revealing or insightful ones.
Gathering Existing Research
The information that I gathered included chat logs from the library's live chat software and messages sent through the question submission form. Both can be found on the official website. These held documentation of hundreds of conversations that occurred over the last few years between users (doing research) and library service specialists. I also read a marketing research report developed by volunteers from the Stanford Graduate School of Business when they investigated ways for the library to improve its marketing strategy. Both sources were very informative and helped inform drafts of the current journey map as well as inspired ideas for new maps for future research.
Interviewing Research Liaisons
I conducted 30 minute interviews with four research liaisons to get a deep understanding of the roles they fulfill in the context of partnering with healthcare professionals to aid in their research. This gave me an opportunity to learn exactly what the user actions are, how the users felt at each step and what some pitfalls in the journey were. I also used the opportunity to talk about UX principles and their importance in order to inspire a sense of value for our work so that they could later view the researchers' customer experience through that lens and thus uncover new insights. Some of the questions I asked during interviews included:
Walk me through what you do when a researcher approaches you with a research question.
Can you tell me about a time where the researcher became frustrated with the process?
At what part of the interaction do you think a breakdown occurs most frequently?
After the interviews I spent some time going over everything I'd learned to try to create a hypothetical journey map backed by my internal research and conversations with the liaisons. I grouped the user actions, user feelings and journey breakdowns into a timeline therefore breaking up the data into distinct phases that I could then define. This made it easier to communicate the data in the journey map during collaboration.
Collaborative Workshop with Liaisons
I scheduled and led a workshop meeting with the liaisons to review the results of the analysis I had done and to get their help with completing the draft of the journey map. During the meeting I prompted them to work together to fill in incomplete parts of the map such as user thoughts and ideas for improvement at each phase. To make it easier to digest each phase, I presented them as separate sections and we focused on one stage at a time. It was a great experience collaborating with a group of coworkers that I'd never directly worked with before and throughout the meeting we were able to learn together about the design process and how it ties into the work that they do. Through discussions we were able to produce ideas necessary to create a complete hypothetical journey map.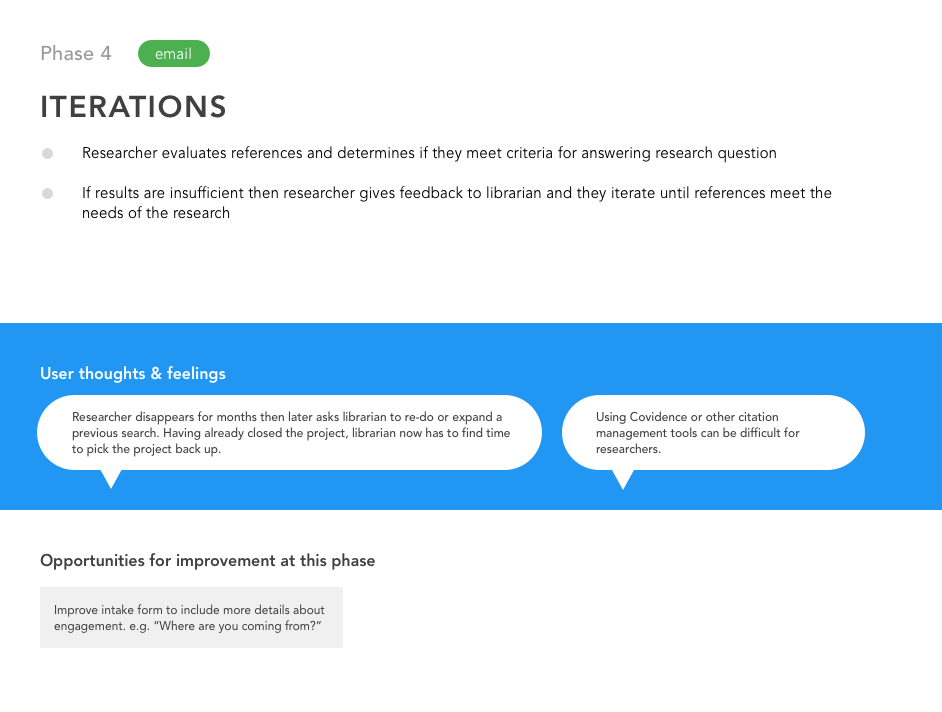 Visualization of Journey Map
After the meeting with the liaisons, I used their insights to complete the journey map and to illustrate a visualization. Although this is just a draft and needs to be strengthened by research with the healthcare professionals, it serves as a start in understanding the experiences our users may have, their feelings along the way and most importantly highlights areas where each phase can be improved to make the overall journey more successful. It has been presented to upper management and stakeholders, and will be used in unifying organization-wide vision about user behavior.
Product Design
Brewtify
Product Design
LinkUp
Visual Design
Kinto